Cameron MacKay – Articled Student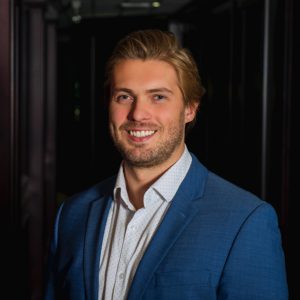 Cameron MacKay joined Lambert Law in 2020.  He practices in a wide range of civil litigation with a focus on property disputes, contested estate litigation, including wills variation actions, misrepresentation and negligence claims, medical malpractice claims, contract disputes, and personal injury matters.
Cameron was born and raised in Victoria, where he spent much of his youth playing hockey on the South Island and at the junior level. Cameron earned a Bachelor of Commerce and a Juris Doctor from the University of Victoria, where he also completed a clinical term at the Business Law Clinic. Between his studies and work, Cameron enjoys travelling. He has visited over 14 countries and counting!  In addition, he lived in Germany for a time, while studying at the Universität zu Köln.
Cameron's early exposure to civil litigation and dispute resolution set the mold for the strategic and solutions-oriented approach he demonstrates when advocating for his clients. He has assisted clients at all levels of Court in British Columbia, including Provincial Court, Supreme Court, and Court of Appeal. Cameron understands the application of risk management and leverages this knowledge to the benefit of his clients. He is dedicated to achieving the best result for each client, either through a negotiated settlement or taking their matter to trial.
Education and Professional Qualifications
2022 – Articled Student
2022 – Juris Doctor, University of Victoria
2019 – Bachelor of Commerce, University of Victoria
Professional Associations
Law Society of British Columbia
Victoria Bar Association
Trial Lawyers of British Columbia
Cameron can be reached by e-mail at cmackay@lambertlaw.com, or during business hours, on his direct line at (250) 940-2136.