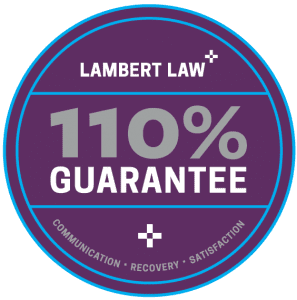 Lawyers have a reputation for being attentive until the fee agreement is signed; then, all of a sudden, they lose interest and stop returning their client's phone calls. The most common complaints about lawyers are
Poor responsiveness;

Failure to keep the client informed;

Reluctance to listen and fully understand the problems the client has as a result of their injuries.
At Lambert Law, our approach is simple: we offer a 110% client satisfaction guarantee.
How does it work?
It's simple, really. We set out our terms of service and you provide us with regular report cards along the way, so we can ensure the promises we made to you are kept. We recognize that we are compensated well for the services we perform; as a result, we feel a strong obligation to ensure that you are well represented. If, at the conclusion of your claims, you are not 110% satisfied, then we receive no legal fees for our services.
Come and visit us before you hire a lawyer for your injury claim. Your satisfaction is guaranteed!